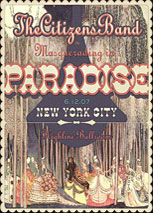 Originally written especially for The Citizens Band's Los Angeles debut, Masquerading In Paradise is a mesmerizing melangé of the troupe's work, a sparkling tapestry of various songs from earlier shows combined with brand new performances. In this special presentation the troupe sets their somewhat bewildered Citizens in the Garden Of Eden in the autumn, apple trees and all, where decadent lunatics, innocent waifs, exotic gypsies, conscripted soldiers, kooky flappers and a stricken Mother Earth each do their best to make sense of a world gone awry.
Favorites from previous shows such as "Gasoline", "Where Have All The Flowers Gone", "I Think Its Gonna Rain Today" and "Medicine Man" create a musical mosaic of the troupe's dazzling talents. Added to the proceedings are brand new compositions as well as some freshly mined classics with apposite lyrics, such as Noel Coward's "There Are Bad Times Just Around The Corner", Phil Ochs' "Draft Dodger Rag", Vera Lynn's "When The Lights Go On Again (All Over The World)" and "Remember My Forgotten Man" from the great Depression-era classic "Gold Diggers of 1933". The Citizens weave all of these songs into a carnival of entertainment, mixing musical styles seamlessly and sprinkling their peculiar magic across the stage.
Masquerading In Paradise debuted at The Avalon Theatre in Hollywood in January 2007.

Chelsea Bacon, Duke Bojadziev, Ian Buchanan, Paul Cantelon, Michael Cavadias, Aaron Conte, Adam Crystal, Zooey Deschanel, Jorjee Douglass, Karen Elson, Sarah Sophie Flicker, Rachelle Garniez, Mike Jackson, Mark McAdam, Angela McCluskey, Amy Miles, Jon Natchez, Eric Newton, Rain Phoenix, Ronin, Craig Wedren

• Gasoline Theme - The Orchestra & Chelsea Bacon
• Bad Times Are Just Around The Corner - Ronin & Ian Buchanan
• Fortune Teller- Rain Phoenix
• Shake Sugaree - Amy Miles & Craig Wedren
• Gasoline - Ian Buchanan & Rachelle Garniez
• Draft Dodger Rag - Michael Cavadias & The Company
• Johnny Has Gone For A Soldier - Karen Elson
• Medicine Man - Rachelle Garniez
• World Gone Wrong - Ronin
• John, I'm Only Dancing - Craig Wedren
• I Wanna Be Bad - Sarah Sophie Flicker
• Chewing Up The Scenery - Jorjee Douglass & The Company
• Remember My Forgotten Man - The Company
• When The Lights Go On (All Over The World) - Zooey Deschanel
• There'll Be Some Changes Made - Amy Miles
• I Think It's Gonna Rain Today - Angela McCluskey
• Where Have All The Flowers Gone - Angela McCluskey, Karen Elson & The Company