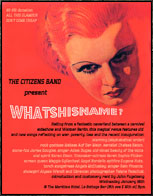 Hailing from a fantastic neverland that lies somewhere between a carnival sideshow and Weimar Berlin, The Citizens Band are a sexy, raucous, collaborative cabaret troupe. A like-minded group of artists with an ever-changing line-up and boundless creativity, they take their cues from the great European tradition of political cabaret. The Citizens Band were spurred into creative action by the outcome of the Presidential Election of November 2004.
Offering a unique blend of elegant acrobatics and melodious song, The Citizens Band's primary goal is to entertain, but always with a sharp jab of the elbow to remind their audience of the state of the world and their place in it. They seek not only to delight the audience with their bawdy fun, but also to inform; their goal is to parody, mock and scoff at the current administration as well as to creatively ponder on the socio-political and economic issues of our times.
Combining the exuberance of collaboration with an unadulterated love for what they do, The Citizens Band believes that this effervescent combination spills off the stage and offers the audience equal parts inspiration and pleasure.
Whatshisname? debuted at the Maritime Hotel in New York City in January 2005.

Melissa Auf Der Maur, Chelsea Bacon, Duke Bojadziev, Paul Cantelon, Adam Crystal, Jorjee Douglass, Adam Dugas, Karen Elson, Sarah Sophie Flicker, Maggie Gyllenhaal, Eugene Hutz, Cyndi Lauper, Angela McCluskey, Rain Phoenix, Alyssa Wendt, Yagor Romanovitz, Paul Walfisch, Yelena Yemchuk

• New World- The Company
• I'm Your Man- Sarah Sophie Flicker
• The Man With The Weird Beard- Alyssa Wendt
• Oh Chichonya- Yelena Yemchuk
• Troubled Friends- Eugene Hutz
• Army Song- Adam Dugas
• We Suck Young Blood- Maggie Gyllenhaal & Jorjee Douglass
• Give Us Another Lincoln – Rain Phoenix
• War Pigs- Melissa Auf Der Maur
• Russian Revolt Song- Yagor
• In The Ghetto- Karen Elson
• Soldiers Things- Angela McCluskey & Cyndi Lauper