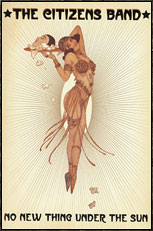 Throughout time immemorial there has been war, famine, bigotry, hatred and greed. The Bible is filled with tales of terrible travails, natural disasters, violence and disease. Christianity was founded on a clear set of rules of compassion and understanding but it is those very ideals which have been lost in much of the "religious" discourse of our political system, where senators and presidents regularly claim Heaven (and Earth) as their own.

Believing that The Bible with all its tales of kindness and charity should not be commandeered by those who call themselves "The Religious Right" The Citizens Band's No New Thing Under The Sun employs song, dance, trapeze and acrobatics to dazzle, question, poke fun while set in a decadent Romanesque landscape. The show includes a a rousing collection of songs provide vignettes on the Creation of the Universe, the marvel of Jesus Christ, the frightening magnetism of El Diablo and the relentless compassion of God. Mixing rock n roll covers with 12 bar blues, traditional standards and original compositions, No New Thing Under The Sun is a dizzying rendition of The Bible which seeks to tell tales of love, bravery, belief and humanitarianism.

No New Thing Under The Sun debuted at the Hiro Ballroom in New York in July 2005.

Chelsea Bacon, Duke Bojadziev, Ian Buchanan Paul Cantelon, Turner Cody, Aaron Conte, Adam Dugas, Jorjee Douglass, Karen Elson, Sarah Sophie Flicker, Mike Jackson, Rachelle Garniez, Mark McAdam, Angela McCluskey Alessandro Magania, Amy Miles, Jonathan Nosan, Rain Phoenix, Ronin, Viva Ruiz, Tracey Ryan, Mia Theodoratus, Craig Wedren

• Who By Fire - The Company
• Wade In The Water - The Company
• Forbidden Fruit - Amy Miles
• Eden's Leaves - Turner Cody
• Song of Songs - Rachelle Garniez, Adam Dugas, Johnathan Nosan and Sarah Sophie Flicker
• God's Song - Mike Jackson
• Personal Jesus - Ian Buchanan
• Sympathy For The Devil - Jorjee Douglass
• I Think About Jesus - Mark McAdam
• Nature Boy - Rachelle Garniez
• Samson and Delilah - Ronin
• Pack Up Your Sins - Sarah Sophie Flicker
• Woodstock - Adam Dugas
• Salome/Bring Me The Head Of The Preacher Man - Karen Elson & Viva Ruiz
• Dirt In The Ground - Craig Wedren
• Hallelujah - Karen Elson
• God Bless The Child - Angela McCluskey
• Starman - The Company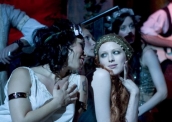 The Christian Alliance For Progress