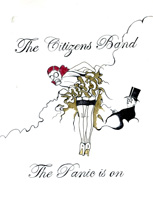 The Panic Is On, The Citizens Band's seventh original show, finds the troupe trapped in a makeshift bomb shelter where they're forced to find common ground and hope in a terror filled world. Performing a spirited mix of classic songs and original compositions they ponder such issues as fear mongering, war, immigration, xenophobia, poverty and their own dreams for political change. With a set list spanning almost a century they bring together a carnival of song while their boundless energy and bawdy fun spill from the stage and wreak glorious havoc upon the audience. Within the confines of their dusty underground ballroom the bedraggled Citizens perform for one another, using song and dance to articulate their desires and fears. Frequently interrupted by explosions and creeping smoke, our shell shocked Citizens consider their circumstances; lamenting their financial ruin, succumbing to rousing propaganda, eulogizing their lost soldiers and wrestling with their conscience as they dance, flirt, swing from chandeliers and lift their voices together in a chorus of hope, optimism and endurance.
"Private Cody" has returned from war to find himself penniless and uncared for. A gentleman toff comes to terms with his recent arrival on skid row as he asks "Brother, Can You Spare A Dime?" A lady of the night seeks some company in "The Deepest Shelter In Town", and a canny xenophobic creates paranoia about the "Spiders" all around. This hotchpotch of characters all come from the same fantastic neverland set between 1850 - 1946 and each has a story of their own. Fun, sexy, smart and ultimately uplifting, The Panic Is On sees The Citizens Band take a uniquely humorous yet emphatic look at our past in order to understand the present.
The Panic Is On debuted at the Ars Nova Theater in New York City in November 2007.

Chelsea Bacon, Ian Buchanan, Michael Cavadias, Turner Cody, Aaron Conte, Adam Crystal, Jorjee Douglass, Karen Elson, Jesse Gelber, Sarah Sophie Flicker, Rachelle Garniez, Jesse Gelber Mike Jackson, Mark McAdam, Angela McCluskey, Amy Miles, Jon Natchez, Jedediah Parish, Nina Persson, Rain Pheonix, Ronin and Craig Wedren

• Waltz of The Bastards - The Orchestra & Chelsea Bacon
• The Party's Over - Angela McCluskey
• There Are Bad Times Just Around The Corner - Ronin, Ian Buchanan & The Company
• Wrap Your Troubles In Dreams - Michael Cavadias
• Brother, Can You Spare A Dime? - Jedediah Parish
• The Panic Is On - Ronin
• The Deepest Shelter In Town- Sarah Sophie Flicker
• What The Country Needs- Amy Miles
• After The Gold Rush- Karen Elson
• Immigrant Song - Rain Phoenix
• Spiders! - Jorjee Douglass
• Over There - Rachelle Garniez, Jorjee Douglass & The Company
• International Rag- Ian Buchanan & The Company
• Private Cody - Turner Cody
• Oh Camille - Craig Wedren
• My Forgotten Man - Karen Elson & The Company
• Hello, Hello Cruel World- Rachelle Garniez & The Company
• Hard Times Come Again No More- Karen Elson, Amy Miles, Nina Persson & The Company
• Let's Have Another Cup Of Coffee - Nina Persson
• This Will Be Our Year - Angela McCluskey, Craig Wedren & The Company