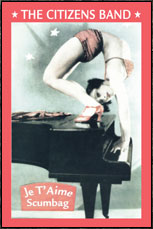 Je T'aime Scumbag sees The Citizens Band at their bawdy, sexy, ribald best. The setting is a prohibition era brothel run by a crooked madam, in which the Citizens have fled to take cover from the unraveling world outside. While the politicians and world leaders above fail to keep the earth at peace, the Citizens experience their own tribulations. As they slip into raucousness they take their cues from the society they're hiding from and declare that "The world's gone bad, so we're going bad!"
Song, dance and aerial ballet provide the entertainment as the cast succumb to the indulgencies of booze, drugs, prostitution and egocentric behavior. Their gluttonous, hierarchical ways mirror that of the world outside their underground shelter, where voracious, mercenary and avaricious politicians put their own agendas before those of the masses. As the Citizens rapidly lose their morals and integrity they sing a rousing song of support to their Presidential paragon, the "Scumbag" of the show's title. Watching their decadent spiral into uncivilized obstreperousness is a musical whirlwind of fun, but the underlying message is one of self-destruction and the universal dangers of self-interest over community spirit and altruism.
Je T'aime Scumbag was first performed in April 2005 at Deitch Projects in New York City.

Chelsea Bacon, Duke Bojadziev, Paul Cantelon, Turner Cody, Aaron Conte, Adam Crystal, Jorjee Douglass, Adam Dugas, Karen Elson, Sarah Sophie Flicker, Rachelle Garniez, Eugene Hutz, Mike Jackson, Aaron Kant, Mark McAdam, Angela McCluskey, Allesandro Magania, Amy Miles, Jonathan Nosan, Rain Phoenix, Ronin, Viva Ruiz, Tracey Ryans, Desi Santiago, Michael Tubbs, Craig Wedren, Alyssa Wendt

• Je T'aime Scumbag- The Company
• If I Can't Sell It- Ronin
• Blue Skies- Rain Phoenix
• Milk and honey - Jorjee Douglass
• Carol- Turner Cody
• International Rag- The Company
• Ain't No Sin- Mark McAdam
• Candy Says- Karen Elson
• Bordello Kind Of Guy- Eugene Hutz
• Put The Blame On Mame- Alyssa Wendt
• It All Belongs To Me- Sarah Sophie Flicker
• Ballad Of The Soldiers Wife- Karen Elson
• Pearls and Swine- Rachelle Garniez
• Shake Shugaree- Craig Wedren & Amy Miles
• Apache Dance- Viva Ruiz & Allesandro Magania
• Don't Let Me Be Misunderstood-Adam Dugas
• Boulevard of Broken Dreams- The Company