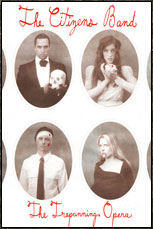 Taking its stylistic cues, as always, from the general time period of 1888 to 1928, The Trepanning Opera sees the Citizens Band tackling the subjects of medicine and health. Peppered with humor and spiked with satire, The Trepanning Opera contains a selection of songs that reflect on sickness, the field of medicine and health care as well as the wonders and horrors of the human body.
Imagine, if you will, an assembly of doctors, nurses and patients who resemble refugees from a lost silent movie. They sing, they dance, they hang from the sky, they contort and employ an atypical theatrical flair to mesmerize, seduce, enlighten and generally entertain, all the while reminding the audience of the increasingly impossible cost of medical treatment. The characters of The Trepanning Opera are weak with a myriad of ailments, such as influenza, tuberculosis & albinism, which send them seeking potions and cures from any available source, including traveling medicine men and trepanation surgeons and performing their own acts of self-surgery. They end up in a third rate sanitarium under the care of two quack doctors, who prove more interested in their own addictions to drugs and money. Then, as now, those with cash get care and those without stay sick.
Added to this is a lovesick wife whose husband has been sent to war, a lonesome young soldier aching for home and a number of returning servicemen suffering horrendous injuries and mutilations from battle. These sketches of modern realities cast in an almost other-worldly ghostly era are eerily powerful, poignant and haunting. The show's subject matter of inadequate health care and of the painful loss of young lives accrued by a country at war are told with the use of classic songs like "Johnny Has Gone For A Soldier", "Keep Young And Beautiful", "Saint James Infirmary Blues" and "We'll Meet Again" as well as original compositions.
The Trepanning Opera debut at Deitch Projects in New York City in September 2005

Chelsea Bacon, Duke Bojadziev, Ian Buchanan, Paul Cantelon, Michael Cavadias, Turner Cody, Aaron Conte, Jorjee Douglass, Adam Dugas, Karen Elson, Sarah Sophie Flicker, Rachelle Garniez, Mike Jackson, Aaron Kant, Mark McAdam, Angela McCluskey, Alessandro Magania, Amy Miles, Jonathan Nosan, Rain Phoenix, Ronin, Viva Ruiz, Tracey Ryans, Desi Santiago, Mia Theodoratus, Craig Wedren

• Overture – The Orchestra
• Bad Times Just Around The Corner – Adam Dugas, Ronin, Sarah Sophie Flicker, Karen Elson, Jorjee Douglass, Ian Buchanan
• Button Up Your Overcoat – The Company
• Johnny Has Gone For A Solidier - Karen Elson
• I Just Don't Know What's Wrong With Me – Rain Phoenix & Ian Buchanan
• The Operation – The Orchestra
• The Physician – Sarah Sophie Flicker
• My Forgotten Man – Karen Elson, Ronin & The Company
• Spleen – Michael Cavadias
• Saint James Infirmary Blues – Craig Wedren
• The Trepanning Waltz – Viva Ruiz & Alessandro Magania
• Insane Asylum – Ronin
• Syphilis – Jorjee Douglass
• Keep Young And Beautiful - Ian Buchanan
• There'll Be Some Changes Made - Amy Miles
• Keep Young And Beautiful – The Company
• A Soldier's Song – Turner Cody
• Medicine Man – Rachelle Garniez
• Heal Thyself - Adam Dugas
• I've Got You Under My Skin – Angela McCluskey
• We'll Meet Again – Angela McCluskey & The Company
• Bad Times Reprise – The Company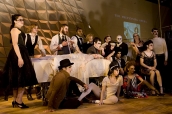 Universal Health Care Action Network
Physicians For A National Health Program
American Medical Students Association
Health Care For Massachusetts Campaign